After being present in beta a few months ago, WhatsApp has finally officially launched Dark Mode for all Android and iOS users. That means all users can activate WhatsApp Dark Mode on Android & iPhone devices. This was announced directly on the company's official Twitter account.
As in the beta, WhatsApp's dark mode does not fully use black. Instead, WhatsApp uses a dark gray color. WhatsApp says dark mode aims to reduce eye strain in low light environments. There are two things that are the focus of
WhatsApp in designing the dark mode in the application
.
First, when choosing a color can minimize eye fatigue and approach the system defaults on the iPhone and Android.
Second, in order to easily focus attention, on each screen color and design elements are chosen to ensure that the most important information is visible.
How to Activate Dark Mode
This dark mode feature is already available on Android and iOS. In order to enable dark mode, make sure WhatsApp is updated to the latest version. On iOS, the latest WhatsApp is
version 2.20.30
. While on Android, the latest
version is 2.20.69
.
Android can Activate Dark Mode as follows:
Open Settings / Settings
Select Chat
Select a Theme
Choose Dark
iPhone users can activate dark mode as follows:
Open Settings
Click Display & Brightness
Select the Dark theme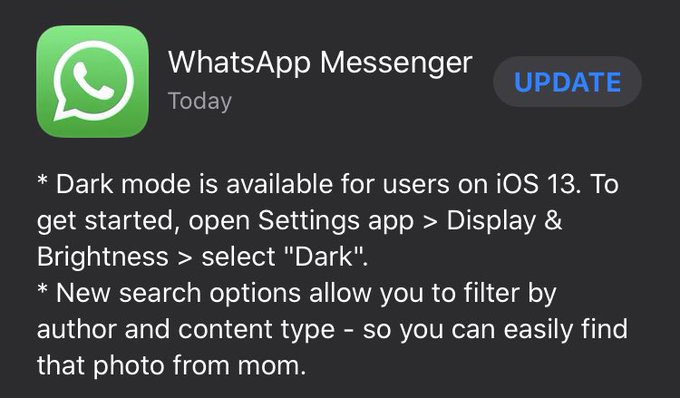 For Android 10 and iOS 13 users, WhatsApp's dark mode can be activated from the system settings.
If the above mention WhatsApp version is not available to your phone, please check for WhatsApp updates in the coming days. The update would be launched gradually over the next few days.